MacKillop Bulletin - Term 4, Week 8, 2023
From the Principal
As 2023 comes to an end…
While 2023 might not yet have concluded, planning for 2024 has been advancing at great pace in recent weeks.
Our projected 2024 enrolment is currently 815 students. This continues the significant increase in student numbers over the past three years. The commencement of the College's first class of Year 12 students in 2024, marking the completion of the school's transition to a Years 7-12 college, and sustained demand for places in Years 7-10, speaks volumes of the quality of our learning and wellbeing programs.
This ongoing demand for enrolments has furthered the need to continue the College's building program. As noted in the updated Building Master Plan, the next building project will focus on significantly increasing our general purpose classroom count. While the location and design of these additional teaching rooms are still to be finalised, work has proceeded to locate the equivalent of eight demountable classrooms on site in anticipation of the need to decant from some of the current classrooms and offices as part of the new build program of works.
As shown below, these buildings will be placed near and around St Joseph's Chapel and will form part of what will be known as the St Joseph's precinct.
The current schedule of works has this projected being completed and ready for occupancy from week 2 of Term One.
As can be seen through previous editions of the Bulletin, much has been achieved in 2023 and much will continue to be done in 2024 to ensure that we do everything possible to meet our vision of being a Christ-centred learning community that fosters excellence, compassion and service. Bring on 2024!
The Season of Advent
As we prepare to enter the season of Advent, we are reminded of the importance of this time in the Church's liturgical year - the coming of our Lord. It is a time for us to look back to Christ's birth and to look forward in celebration of the hope and joy of His second coming. Living in the period between these two important events, we are all called to discover and fulfill our God-given purpose.
Season's greetings to all members of the MacKillop Catholic College community and may you all have a very happy, healthy and safe Christmas and New Year!
Regards, Stephen
Stephen Hill
Principal
From the Deputy Principal
Thank You!
This week is the final bulletin for the year and for me, my last one here at MacKillop Catholic College.
I feel blessed to have been a part of the MacKillop Catholic Community. I leave hoping that you feel I have given my best to the role. Sometimes, you don't know what plans God has for you and when someone told me I would come to Tasmania and have an opportunity to be part of a dynamic and growing learning environment, I would have doubted the idea. However, it entered my professional journey and I embraced the change and am truly grateful. I am extremely grateful for the support I have been given from the whole community. This support has come from students, staff, parish, parents and the wider community.
Students are at the centre of everything we do at MacKIllop Catholic College and my memories are filled with the many conversations I have had with students during my time here. These young people have taught me so much.
Thank you to everyone for making my time at MacKillop Catholic College such a rewarding experience.
End of Year Reports
On Friday 15 December, the Years 7 - 10 College End of Year Report Cards will be available via SEQTA Engage. College Reporting is an essential element in providing parents and students with feedback on progress throughout the year. Judgements about the quality of student learning is based on evidence collected using a range of assessments aligned to the curriculum. The individual ongoing assessment instruments provide the basis for reporting judgements about the student's overall level of achievement in each subject against the Australian Curriculum Achievement Standards (Year 7 – 10). Year 11 students will receive their results directly from TASC.
At MacKillop Catholic College, we communicate reporting in two formats:
• Continuous Online Assessment Feedback via SEQTA
• Formal Report Cards, Semester 1 and 2 via SEQTA.

We encourage parents/caregivers to take time with their child to discuss the report card reviewing the successes and
the challenges of 2023. Parent/Caregiver engagement has a positive impact on many indicators of student
achievement.
Wishing everyone a very merry Christmas and all the very best for 2024.
Yours in Christ
Lorraine Wolffe
Deputy Principal - Teaching and Learning
From the Deputy Principal
Important Mobile Phone Change for 2024
Please be advised MacKillop Catholic College is updating our Mobile Phone Protocol from Term 1, 2024 commencing Wednesday 7 th February or all Year 7, Year 10 and Year 11 students and Thursday 8 th February for all remaining students.
As you are aware, we prioritise the well-being of our young people in all the decisions we make as a school. The update will be aligned with the Tasmanian Government's "off and away all day' policy which has been in place since Term 2, 2020 in all state schools, and is in line with other policies currently in NSW, Victoria, Western Australia, South Australia and Queensland.
The protocol states that students are not to have their mobile phones with them while at school. If students do not meet this College expectation, they will have their mobile phone taken and it will be stored safely at the College Office until the end of the day. For further instances, please see the Mobile Phone Protocol. In addition, smart wearables will be required to be in 'aeroplane mode'.
Please note, that students can store their phones in their lockers or securely in the school office. If students currently use their phones to purchase items from the canteen, they should order a physical card from their bank or pre-order using the QKR app.
Parents and students are to use the College's phone line for contact during school hours. If students and families require an exemption to the mobile phone protocol for exceptional circumstances like health reasons, they are to apply to the Deputy Principal – Wellbeing in writing.
We know this is a significant change to the current situation but as a community we will work together to ensure that the safety of our young people is our priority.
Andrew Pritchard
Deputy Principal - Wellbeing
Canteen News
Please be aware that the MacKillop College Canteen is closing on Friday 8th December, therefore will not be operational on Tuesday 12th December. All students will need to bring their own lunch on this day.


Director of Catholic Identity and Ministry
Vinnies Christmas Appeal
Thank you so much to everyone in the MacKillop Catholic College community who has contributed to the Vinnies Christmas Appeal in 2023. Your donation will go to help make Christmas a little brighter for families and young people in our local area.
The St Vincent de Paul Society relies on donations from Catholic Schools on the Eastern Shore to support those in need on this side of the river.
John Paul II Buddies
This term, students in years 7 – 11 from MacKillop Catholic College have been running a buddies programme on Friday afternoons for students in Grades 3 & 4 at John Paul II Catholic School in Rokeby.
We thank these students for giving up their free time to run games and activities for students who need some extra care and attention.
They are great ambassadors for our college.
Catholic Parish of Bellerive/Lindisfarne Christmas Mass Times
Everyone in the MacKillop Catholic College community is welcome to join with the parish to celebrate the Birth of Christ at Christmas.
From the Director of Junior School
Finishing the year..
There is no better way to finish the year in Junior school than with a hearty congratulations to Dylan Macgill in year 9 for a significant achievement in the CAT Algorithmic and Computational Thinking Test. Dylan scored a Distinction in this Nationwide competition which is a wonderful achievement. Well done for this result but also for putting yourself out there and having a go. This is what we encourage all students in the Junior School to do - step beyond and give things their best. As year 9 have no opportunity left this year to gather to congratulate Dylan, he gets his photo in the Bulletin! We will be able to applaud some year 8s for similar achievements on Tuesday the 12th.

Careers and Pathways
Australian Jobs 2023 Report
This week, the National Careers Institute released the 2023 Australian Jobs Report. This hefty document is a great source to review job trends, working styles and is an overall round up of what employment looked like in each state for the year.
Some interesting points to learn from Tasmania were:
More than 50% of jobs in Tasmania are regional.

The top five industries were health care and social assistance, retail trade, education and training, construction and accommodation and food services.

Workers aged 15-24 made up 14% of the Tasmanian workforce.

An increase in vacancies came from the following areas, early childhood teachers, forklift drivers and nursing support and care workers.
The yearly Jobs Report is always an insightful read and can outline to young people emerging trends in different occupations and what employers are looking for as they step into the world of work.
You can read to Australian Jobs 2023 Report – here.
Looking forward to 2024!
It's been a successful end to 2023, helping students organise School-Based Apprenticeships and Traineeships, sending students on more work placements and helping students to perfect their subject choices for next year.
Here at MacKillop, we are so excited for everything we have planned for the new school year in our Careers and Pathways Program. This of course includes yearly activities like our Year 10 Work Experience Program and the Creating Futures Expo, but we've also got lots of new and exciting things planned!
Wishing you all a wonderful Christmas and a safe and happy New Year.
Sarah Gurney
From the Arts Department
Year 9 Visual Art
In Term 4 Year 9 Mr Beddoe's Painting and Printmaking students tried their hands at the art of silk-screening. Students selected an image of someone famous they admired or a family member that they imagined could look good in a pop-art style print. Photographs were simplified into tonal values and then carefully cut out of multiple stencils. Layers of colours were then squeegeed through the stencils and screens producing these clever portraits. Well done Yr9!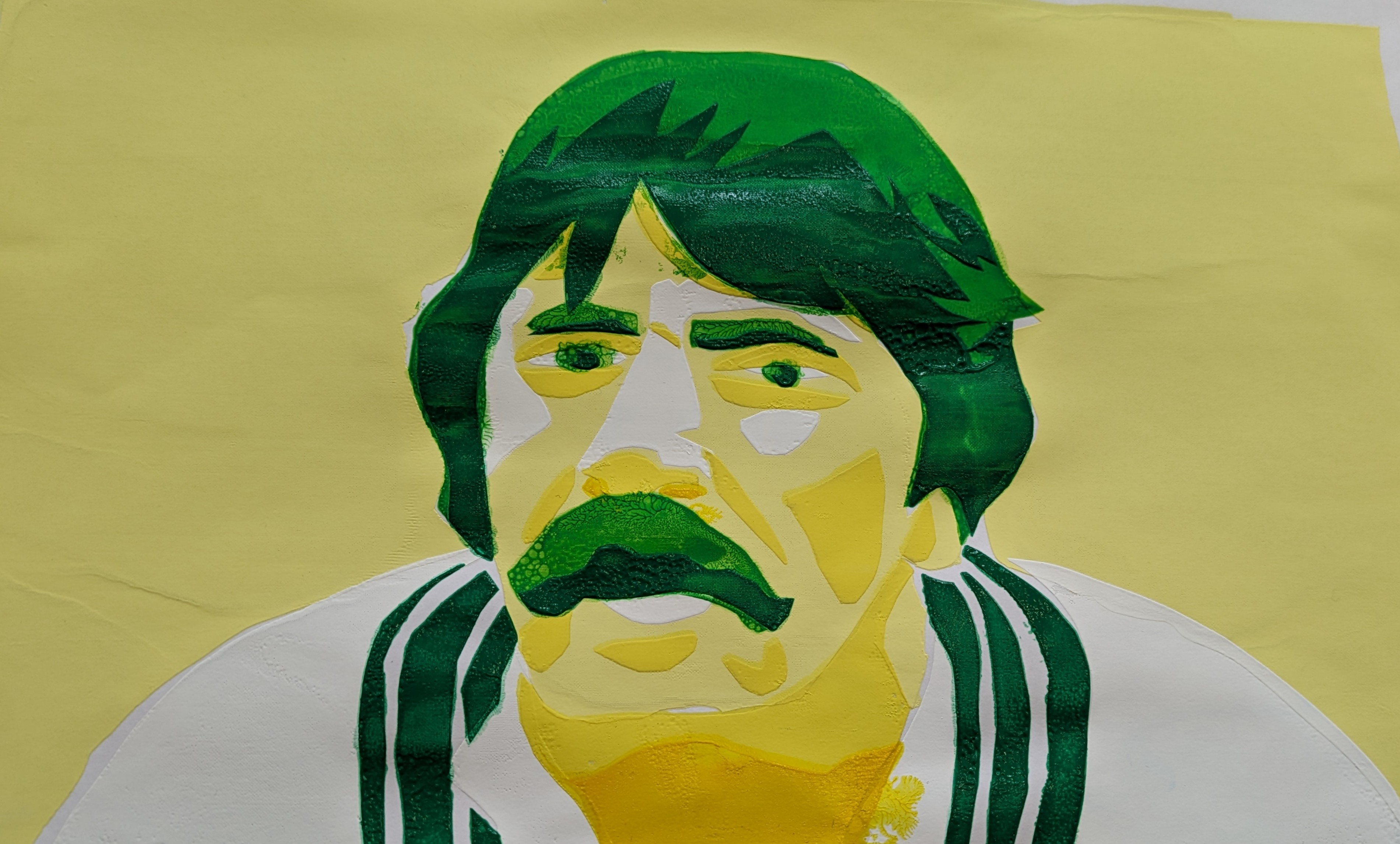 Prev
Showing images
1 - 8
of 13
Next
Uniform Shop
2023
Last day of trade 2023 – 14th December Thursday 12 – 6pm
BACK TO SCHOOL 2024
UNIFORM SHOP OPENING HOURS
Monday 22nd January 9am - 4pm (closed for lunch 12.30 – 1)
Tuesday 23rd 10am – 5.30pm (closed for lunch 12.30 – 1)
Thursday 25th January 9am – 6pm (closed for lunch 12.30 – 1)
Saturday 27th January - 9am – 12pm
Monday 29th January 9am – 4pm (closed for lunch 12.30 – 1)
Tuesday 30th January 10am - 5.30pm (closed for lunch 12.30 – 1)
Thursday 1st February 9am – 6pm (closed for lunch 12.30 – 1)
Saturday 3rd February - 9am – 12pm
Monday 5th February 9am – 3.30 (closed for lunch 12.30 – 1)
Tuesday 6th February 11am – 5.30pm
Thursday 8th February 12pm – 6pm
Saturday 10th February 9am - 12pm
MacKillop Stars
Congratulations Karl and Natasha
A huge achievement for these two Tasmanian Volleyball Players they have been selected to attend the National Development Program (NDP) U17 Development Camp, Toowoomba, QLD 09 th – 16 th December 2023.
Congratulations Abel
Abel Harris won a Solar Boat competition last weekend. He spent a long time developing his Solar Boat, investigating not only the solar technology but also keel design to aid in the boat's efficacy. So It was a well-deserved win all round.